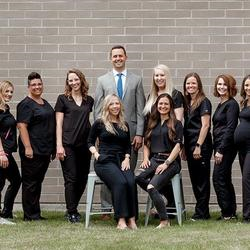 SALT LAKE CITY (PRWEB)
March 05, 2021
Salt Lake Dental Clinic offers free consultations on cosmetic dentistry services in Utah, including professional teeth whitening, dental veneers, porcelain crowns, bridges, and bonding to help patients feel and look their best.
As a result of the worldwide pandemic and associated quarantine restrictions, many Utahns did not take care of their teeth as they should. Unfortunately, many were unable to go to the dentist for their annual check-up causing discoloration and dental health problems. Utah residents who are ready to get back on track can improve their dental health care this year with a free cosmetic dentistry consultation at Salt Lake Dental Clinic.
"Having a healthy smile helps you feel your best and gain confidence. If any of our patients are embarrassed by crowded or chipped teeth, tooth discoloration, or old fillings, they stop smiling as frequently or start feeling self-conscious. We can help," explains Dr. Scott Elder.
To ensure patients feel their best all year long, Salt Lake Dental Clinic invites patients to schedule an appointment at their local clinic. Their cosmetic dentistry services improve the appearance of patients' teeth and gums by focusing on dental aesthetics in color, position, shape, size, alignment, and overall smile appearance.
Salt Lake Dental Clinic's resident dentist, Dr. Scott Elder, specializes in cosmetic dentistry services, such as teeth whitening, Invisalign®, porcelain veneers, or dental implants. Working with Dr. Elder, patients can determine which cosmetic dentistry procedure will best address their individual dental care goals.
In an online review, Salt Lake Dental Clinic patient Karen Paulsen wrote, "I have never had a more pleasant experience at a dental office ever! Everyone was so nice and made me feel comfortable and at ease. I am so happy that I was recommended to this dental clinic."
About Salt Lake Dental Clinic
Salt Lake Dental Clinic has been serving the South Salt Lake, Sugar House, Holladay, and nearby areas for the past six years. Welcoming new and returning patients of every age group. This Salt Lake City dental clinic provides a friendly, relaxed environment to ensure happy, healthy smiles.
To request an appointment, visit SLCdental.com or call their dental office at (801) 278-7100.
This content was originally published here.