It's
welcome news any time there's a step forward in dental technology. Not only are
healthy teeth incredibly important, but nobody complains when a trip to the
dentist gets even easier. One recent dental development is the use of silver
diamine fluoride. When you decode the name, you find that it's made of silver
and fluoride ions that re-mineralize enamel and slow decay, plus ammonia to
keep the mixture stable and safe for use.
After
being used overseas for more than 40 years, silver diamine fluoride was
approved in 2009 by the United States FDA and has been adopted by groups like
the World Health Organization. It's also being used by the staff at Bellingham Pediatric Dentistry, including their
newest care provider, Dr. Marc Horton.
Dr.
Horton grew up in Bellevue and attended undergraduate and resident programs in
Boston. During his residency, he worked with a population that had significant
dental needs—many of whom weren't older adults. "My perspective was that if
they had learned some better habits when they were younger, made some different
choices or maybe had different circumstances in life, they could have prevented
a lot of that," he says. "There's great technology in terms of repairing dental
and oral diseases once they occur, but I wanted to be on the prevention and
education side, to help children and their families get off on the right foot."
He
returned to the West Coast in 2019 to complete his residency in pediatric
dentistry at the University of Washington. Trusted faculty members put him in
touch with Bellingham Pediatric Dentistry's Dr. Sawyer, and he's been working
with patients there since August of 2020.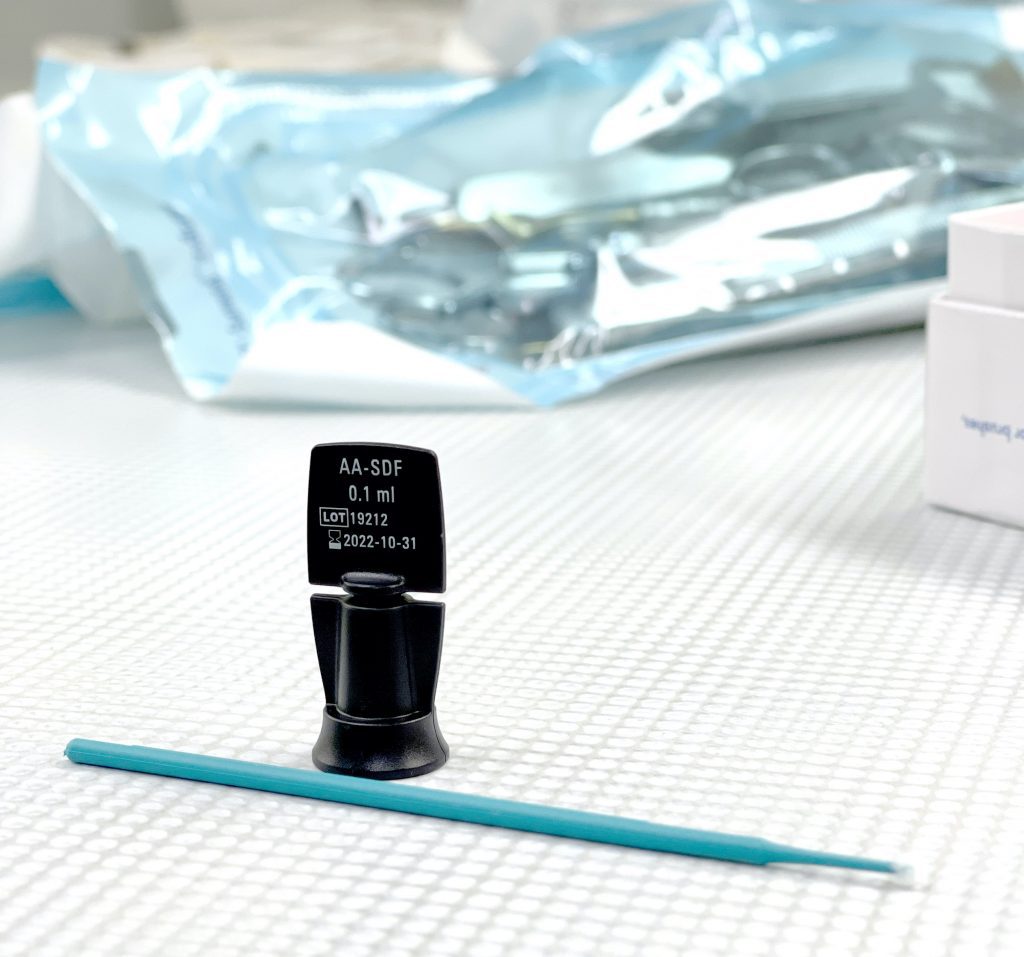 Dr.
Horton is well-versed on the use—and the history—of silver diamine fluoride.
"It was first used as a desensitizing agent, primarily in adult patients who
have root exposure associated with periodontal disease and is also used to help
arrest cavities that have started to form," he says. "It was relatively
recently approved in the U.S. as a device for reducing tooth sensitivity, and
we also use it on 'caries,' or decay."
It's important to know that silver diamine fluoride doesn't replace prevention or regular maintenance but might help avoid more serious treatments. "It's often used in pediatrics as a bridge. We may have identified some decay in a young child, and we can use this as an effective way of slowing down the progression of the decay," says Dr. Horton. "The hope is that we can get the child to a point where they're a little older, and they can cooperate for more traditional dental treatment, like a restoration or a fill."
Part
of Dr. Horton's job is helping new parents learn how to care for their baby's
teeth, as well as intervene in case of trouble. "Unfortunately, we see some
really young children—two, three, four—that have cavities on their back molars
that are going to be in their mouths until they're 10 or 12," he says. "We're
trying to get another 8 to 10 years out of these teeth and help parents
understand that, unless there's a pretty significant change in diet or home
care, we will need to still do some traditional treatment in the future."
One
of the best parts about silver diamine fluoride treatment is how quickly and
easily it can be accomplished. "It's non-invasive or minimally invasive. It's a
liquid we apply to the teeth using a very small brush, and we can apply it
safely and effectively on a young—and maybe uncooperative—child in a manner of
a minute or less," Dr. Horton says. "Then our recommendation is a repeat
application, typically at six-month intervals.
Parents
like the fact that it's non-invasive compared to traditional dental treatment.
The downside is that, because of the silver content in the liquid, the areas
where they have decay or cavities are stained a dark brown or black color. In
some ways, it can be a nice visual indicator of an area where they haven't been
as diligent as they could be.
Stains
on baby teeth are a temporary drawback, and it should not be used on people
with a silver allergy, but otherwise silver diamine fluoride gets high marks
for safety.
"Applying
this to the baby teeth has no effect on the color of the permanent teeth.
That's a common question I get," says Dr. Horton. 'It's becoming more common,
and I think that if parents ask around, they're going to find other parents in
the community whose children who have had this applied. It's becoming more
widely used, and the Academy of Pediatric Dentistry supports its use as a part
of a comprehensive plan for tooth decay."
Dr.
Horton also stresses the importance of parents having a comprehensive plan to
start paying attention to dental health early.
"The official recommendation is [a visit] within six months of the first tooth erupting, or by the first birthday," says Dr. Horton. "I would say we'd love to see all of them on or around their first birthday. Parents can get into a good habit and find a dental routine for their child."
This content was originally published here.